New to "Sustainable Series" of Industrial Packaging
July 2023
For Immediate Release
Extensive testing has proven that Daubert Europe's new VCI packaging film containing a minimum 30% recycled content provides best corrosion protection for metals during storage and shipment. It also meets certain EU mandates as a non-taxable plastic.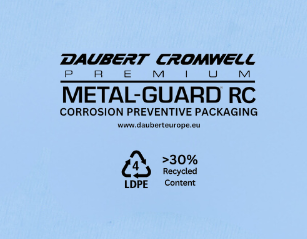 Typically, adding recycled content diminishes the efficacy of VCI films. Premium Metal-Guard® RC, however, is shown to meet environmental requirements without compromising performance as a corrosion inhibitor packaging product.
Safe, effective, and now available in Europe, it combines Daubert Cromwell's proprietary multi-metal VCI chemistry with recycled material to produce an internationally compliant film having exceptional corrosion inhibitor properties for metal parts in all stages of storage and transit.
"The push for sustainable packaging is gaining significant traction in the EU," said Dr. Jonathan Brekan, Vice President Technology. "Premium Metal-Guard RC helps European markets achieve sustainability mandates with VCI packaging that meets targets for low-carbon footprint, recyclability, low-toxicity. We help them meet their own environmental goals without sacrificing quality."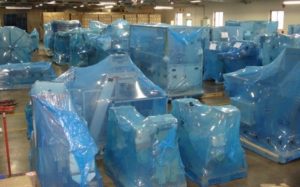 "Side-by-side testing of VCI films with and without recycled content showed nearly identical physical strength and performance metrics", Dr. Brekan continued. Premium Metal-Guard RC compared similarly in tear strength, tensile, elongation, plus corrosion protection.
"Mechanically recycled polyethylene will bring dyes, additives and other contaminates with it, he explained. "These additives and contaminates can adversely affect the performance of VCI chemistries. We deliberately designed our film to achieve both excellent physical and corrosion prevention performance."
Over the past few years, defining "sustainability" for industrial packaging became a global project for Dr. Brekan and his team of ISO accredited R&D labs. They looked to:
Understand how Daubert Cromwell could be a good corporate citizen by following practices to reduce, reuse and recycle in its own production processes, and;
Support customers with VCI products that meet their own sustainability goals.
The resulting Sustainability Series, now including Premium Metal-Guard RC film, is a collection of effective, environmentally friendly, TRGS615 and 900, REACH and RoHS compliant VCI packaging. Choices include VCI papers that meet Europe's specific requirements for transporting metals and machinery; a non-acidic rust removing liquid that is approved and available in Europe; nitrite-free, amine-free, and plant-based poly films.
For more information about the complete line of Daubert Europe VCI products, call +49-(0)-711 2050 5891; service@daubertcromwell.eu.